Touched down at Stuttgart airport on Thursday evening as I had a date with a former 3 time world champion (John Part ) the following evening. That gave me plenty of time to familiarise myself with the surroundings and relax before tomorrow's big game.
So Friday afternoon I make my way to the Glasplas Arena a good few hours before I am due to play to have a proper practice and warm up. By the time I am due to play I'm well ready to take on the 3 time world champion. I was pretty slow out the blocks as John Part went off like a train taking a 5-2 lead. But with grit and determination I got back to 5-5 and hit the winning double, double 4 in the decider. Not many people can say they've beat a world champion on a stage.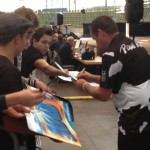 This great result put me in to the next round where I would meet another world champion Steve ( bronzed Adonis ) Beaton. This time it wasn't to be so fruitful as I go down 6-1 in front of a few thousand people. He went on to win the Euro Tour 7.
Lots more experience gained on the main stage, getting better all the time.
Next up is Dublin for the players championship 9 & 10 and Euro Tour 8 to get to Holland. Fingers crossed and hard work I will qualify. So watch this space.