Redtooth National Darts Final 2013
Sunday 24th November, Genting Casino, Sheffield
More than 150 people gathered at the Genting Casino in Sheffield last Sunday for the National Final of the Redtooth Darts tournament with players from as far apart as Dundee and Devon.
After six gruelling hours the Group stages were completed and we entered the knock-out stages with the last 32 remaining players.

During the day Phil 'The Power' Taylor was on hand to sign autographs and numerous photo requests.
Paul 'Moo Moo' Amos, who joined the PDC circuit this year thanks to his success in last year's Redtooth Darts event, also arrived after playing earlier in the day at a Players Championship round in Barnsley. In less than a year Paul has already broken into the top 100 in the PDC rankings.
Full results from the knock-out rounds are shown at the end of this report.
The last eight, all of whom have qualified to take part in Q school next January, were presented with their prizes by Phil 'The Power' Taylor.
As the day drew to a close we were down to the final two players, Simon Cassidy from The Exhibition, Cambridge and Bob Fuller from The Walnut Tree, Maidstone.
The Final proved to just as exciting as we hoped with a see-saw battle going first one way then the other, culminating in a tense final leg with the scores tied at 5 – 5. With Simon narrowly missing shots at a winning double it was left to Bob to hit double 5 and pick up the trophy along with £1,000.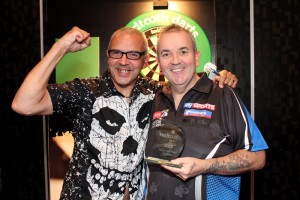 The standard of darts thrown on the day was incredible, in the final alone there were 31 scores of 100 or more, including maximum 180s for both players. A total of 756 legs of darts were played during the day, a real test of endurance.
---
Last 32
| | | |
| --- | --- | --- |
| Simon Cassidy, | The Exhibition, Cambridge | 3 |
| Gaz Wilson Jr, | Riley's, Leicester | 0 |
| | | |
| Shaun Wharton | Riley's, Leicester | 3 |
| John Power | Riley's, Victoria | 2 |
| | | |
| Brian Lewis | The Wilton, Rotherham | 3 |
| Kenny Hoult | The Wilton, Rotherham | 1 |
| | | |
| Phil Johnson-Hale | The Exhibition, Cambridge | 3 |
| Richard Gumble | Riley's, Victoria | 1 |
| | | |
| Tom Neal | The Pheasant,  Batley | 3 |
| Gaz Wilson Snr | Riley's Leicester | 0 |
| | | |
| Frank Kirkwood | Three Horses, Keighley | 3 |
| Adam Smith | Gamlingay Social Club, Sandy | 0 |
| | | |
| Ralph Hurst | Riley's, Edinburgh | 2 |
| Joe Lynch | Eagle Coaching Inn, Dundee | 3 |
| | | |
| Lee Cusworth | The Wilton, Rotherham | 3 |
| Chris Kirkcaldy | Eagle Coaching Inn, Dundee | 1 |
| | | |
| Tony Baker | Riley's Wigan | 3 |
| Jono Poole | The Hop Pole, Nottingham | 1 |
| | | |
| Curtis Hammond | George, Hadleigh | 3 |
| Martin Copperweight | Three Horses, Keighley | 0 |
| | | |
| Mike Symes | The Carisbooke, Gosport | 3 |
| Paul Howell | The Gunner, North Shields | 1 |
| | | |
| Carl Newton | The Round Oak, Brierley Hill | 2 |
| Scott Dale | Dog & Partridge, Blackpool | 3 |
| | | |
| Lee Siddle | The Talbot, Warsop Vale | 0 |
| Bob Fuller | The Walnut Tree, Maidstone | 3 |
| | | |
| Stew Jones | Riley's Wigan | 3 |
| John Barker | The Alpine, Rotherham | 0 |
| | | |
| Dave Harper | The Carisbroke, Gosport | 3 |
| Chris Long | Woodlands, Wigan | 1 |
| | | |
| George Cotterell | The Market House, Cullompton | 1 |
| Paul Burrows | Riley's, Edinburgh | 3 |
Last 16
| | | |
| --- | --- | --- |
| Simon Cassidy, | The Exhibition, Cambridge | 4 |
| Shaun Wharton | Riley's, Leicester | 1 |
| | | |
| Brian Lewis | The Wilton, Rotherham | 4 |
| Phil Johnson-Hale | The Exhibition, Cambridge | 3 |
| | | |
| Tom Neal | The Pheasant,  Batley | 2 |
| Frank Kirkwood | Three Horses, Keighley | 4 |
| | | |
| Joe Lynch | Eagle Coaching Inn, Dundee | 2 |
| Lee Cusworth | The Wilton, Rotherham | 4 |
| | | |
| Tony Baker | Riley's Wigan | 0 |
| Curtis Hammond | George, Hadleigh | 4 |
| | | |
| Mike Symes | The Carisbooke, Gosport | 4 |
| Scott Dale | Dog & Partridge, Blackpool | 3 |
| | | |
| Bob Fuller | The Walnut Tree, Maidstone | 4 |
| Stew Jones | Riley's Wigan | 2 |
| | | |
| Dave Harper | The Carisbroke, Gosport | 4 |
| Paul Burrows | Riley's, Edinburgh | 0 |
Quarter Finals
| | | |
| --- | --- | --- |
| Simon Cassidy, | The Exhibition, Cambridge | 4 |
| Brian Lewis | The Wilton, Rotherham | 1 |
| | | |
| Frank Kirkwood | Three Horses, Keighley | 3 |
| Lee Cusworth | The Wilton, Rotherham | 4 |
| | | |
| Curtis Hammond | George, Hadleigh | 1 |
| Mike Symes | The Carisbooke, Gosport | 4 |
| | | |
| Bob Fuller | The Walnut Tree, Maidstone | 4 |
| Dave Harper | The Carisbroke, Gosport | 3 |
Semi Finals
| | | |
| --- | --- | --- |
| Simon Cassidy, | The Exhibition, Cambridge | 5 |
| Lee Cusworth | The Wilton, Rotherham | 2 |
| | | |
| Mike Symes | The Carisbooke, Gosport | 2 |
| Bob Fuller | The Walnut Tree, Maidstone | 5 |
Final
| | | |
| --- | --- | --- |
| Simon Cassidy, | The Exhibition, Cambridge | 5 |
| Bob Fuller | The Walnut Tree, Maidstone | 6 |